Roll over image to zoom in

Hydraulic Diversion Valve w/Hand Pump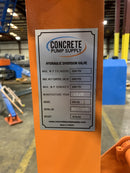 Hydraulic Diversion Valve w/Hand Pump
Concrete pump hydraulic diversion valve w/hand pump for High Rise applications. Don't forget to grab your accessories listed below!
Estimate shipping
All Shipping totals shown are ESTIMATES. Final shipping charges will be added/edited, once your order is processed. Your credit card will then be charged and your order will ship.
Boom Systems
Use this text to share information about your brand with your customers.
Shop Boom Systems
Carbide Wear Parts
Looking for something in Carbide? Concrete Pump Supply has the parts you need!
Shop Carbide
Primer & Support Products
Concrete Pump Supply is the One-Stop Shop serving all of North America
We offer the highest Quality products at affordable pricing